I've been trying out lots of new places this weekend. Yesterday I went to SEVEN different places and got totally SKUNKED! 4 parks, 2 forest preserves, and a retention pond with no luck.
First I went to Lake Becerra in Glendale Heights at about 5am since it was legal to fish there at that time. The lake is designated catch and release only and they're having a kid's fishing derby there next month so I thought it might be good pickings, but I had no strikes at all. I probably will try this place at a different time with different lures though since its so close to home.
Next I went to Lakeview Park near Meacham Grove forest preserve. I saw two guys put one of those mini bass boats with a trolling motor in the lake and cast lures. There isn't a lot of shore access here so I only stuck around about 20 minutes and kept an eye on the guys in the boat but didn't see or get any hook-ups.
Then I went up the street to Gorski Park which has a retention pond in it. One shoreline is accessible, but the rest is surrounded by houses so I had hopes it would be good like the other "private" retention ponds I've been to, but I got no action. I'm not even sure if there's fish in the thing. I guess there has to be for mosquito control huh?
While I was in the neighborhood I stopped at Maple Lake and walked way over to the spillway and got nothing.
Now after getting tired of NO STRIKES at all I headed to the totally legal retention pond I caught 4 bass at the other day and pretty quickly hooked one, but he leaped and threw the hook. Not wanting to waste too much time since I was on a scouting mission I left pretty quickly...
...and headed to Churchill Woods forest preserve. This place is part of the east branch of the DuPage River and I have no clue how to fish a river so I didn't really make too many casts but I did walk around and the atmosphere here is very nice.
Finally I headed to Lake Ellyn Park in Glen Ellyn and stayed for about 90 minutes trying to give it a fair shake. I did hook two fish which threw the hook, but it took a lot of work to get those two.
Whew! What a day! After that nightmare I wanted to make sure to catch some fish today, so this morning I went to the fast & furious retention pond I caught 6 at the other day, and proceeded to catch 4 in about 20 minutes including this 18 incher: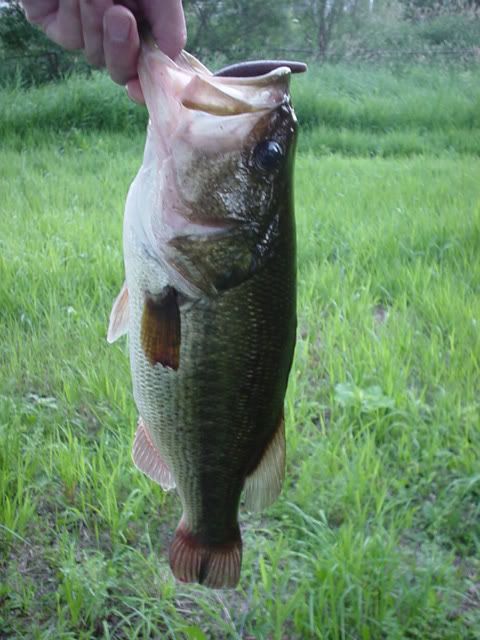 Then when the forest preserves were opened I went to Muskrat Pond at Hawk Hollow forest preserve right across the street from Deep Quarry. I think this place has promise since its probably not heavily pressured because there's no parking. I did catch one dink, and I have to apologize to those other retention pond fish I called "dinks" the other day, cos compared to forest preserve dinks, those were lunkers.
Next I hit Deep Quarry and got nothing but one "tap-tap" that was probably a bluegill nibbling my senko. This place confuses me, I only see one little cove that looks "bassy" and have no clue which spots to fish.
So, lastly I took the long walk to Bass Lake next door and did surprisingly well, catching 6 fish, only 2 of which were dinks, the others were 14-15 inches. I'll definitely be spending more time at Bass Lake in the future...