I've been going to school here at SIUC for 3 years now, and have wanted my dad to come down so that we could play around and fish for a while. He finally was able to drive down Sunday night through Tuesday morning, and I did my best to put him on some fish.
We ran out to Lake Murphysboro Sunday afternoon for a few hours of UL fishing, picking up some UL fish, small bass and big bluegill on small green worms. After a dinner break, we went to a different location for an evening of catfishing. We soaked chicken livers on the bottom in order to catch a mess of bullhead and one decent channel cat.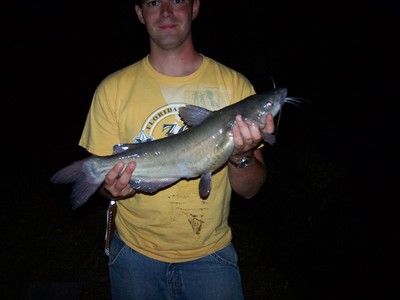 Unfortently, my dad wasn't able to pick up any big fish, that day, but we had fun hanging out. The next day, we woke up and headed over to Little Grassy for the morning in a canoe.
The wind was out of the South east, so we set up several drifts in bays on the northeastern part of the lake, along the northern edge of points, so the wind would push us back in the bays. We free lined med minnows, threw small plastic worms (green and purple), and small spinner baits (1/8 oz and down) for a variety of bass and blue gill. The morning was cloudy, except for some sun around noon, right before a big thunderstorm. The bite died out when the sun started to shine brightly, so we called it for lunch, and were off the water before the weather got nasty.
After a dinner at Quatro's with our friend the one inch praying mantis, we tied up some more catfish rigs and hit the same lake as last night. The bull heads and turtles were a little more scarce, but a few catfish succumbed to chicken livers, including my father's personal best: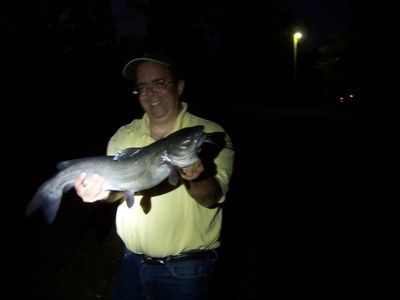 The catfish lake, for those who wonder, is very close to Cdale, and not known for it's cats.
All in all, I think he had a good time, and I'm glad he was able to find some fish. I think he's hooked on catching catfish now too.
-DJM