Went to the fast & furious pond like I do every Monday morning and landed 24 bass and 1 crappie this time. I stopped after I caught one more than yesterday.
This time I started with a Lucky Craft Pointer 78SP in Pineapple Shad. I think Pineapple Shad is an exclusive color to Dick's Sporting Goods, cos I don't see it on the LC website. Caught 6 before I changed lures.
Then I tried out Reaction Innovations Sweet Beaver in Fried Watermelon weightless. This is a pitching/flipping bait, but it works pretty well cast from shore when the fish are hitting on the fall. I only caught 2 before I lost the lure, and I didn't bring any extra.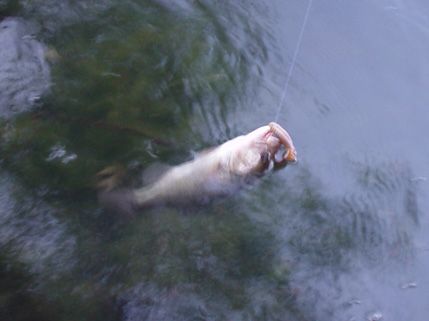 Then I finished up with a 5" Senko in Clear with silver/gold/black flake. I caught 2 then lost the worm with the o-ring, but then on the next one I caught 14 without losing it. Here's a pic of how the Senko goes up the line with the o'ring when you catch a fish: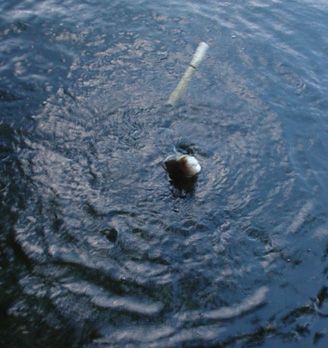 I even caught a crappie on this Senko!
Then I went to Hidden Lake Forest Preserve hoping to catch a smallmouth. I've never caught one before, being as I'm from California and this is my first season fishing here. The main lake, Round Meadow Lake is for boats only, you can't reach any of it from shore. I'm not even sure how you get a boat into the water there. So I walked to Eagle Lake and fished half of it with a Rapala F7 hoping for a smallie, then on the way back fished with a Senko but got absolutely nothing. The water is crystal clear there and I did see some fish, but they weren't in the mood today I guess. Have to try some other time...