Oh boy, my 4th year of Breakfast Time Bassin' in the Chicagoland area! This is by far the earliest I've gotten started, hopefully this early season means more fishes this year. Usually I don't get started until April, and its kind of slow until May. Last year the first couple of weeks of May were cold too. So, we will see...
I heard bassedhard and his boy were whacking the Pike and got a smallmouth at Vulcan so I made that my first trip Saturday after work. The weather was perfect with a storm coming on the horizon and the barometer dropping or whatever it does that makes the fish bite real good before the storm. I started off trying out various jerkbaits since I'm hearing all over the place that jerkbaits are the way to go for early season bass, and pike like 'em too. So, I threw an X-Rap XR10, a Pointer 78 and a Husky Jerk HJ10 for about 45 minutes until my arms got tired (so out of shape.) People don't believe me when I tell them fishing is excercise, but there's no doubt about it. I feel like a fat slob from sitting on my butt stuffing my face all winter. So looking forward to getting fit.
Anyway, no action on the jerks so I figured I'd do something easy that I have confidence in - jigging. No action there either so as a last resort I tried wacky rigging a Senko. Still nothing. Oh well, at least I got a workout. This morning I headed for my favorite spot on the DuPage River, but got there early not knowing what time the Sun really rises. So, I went to the Des Plaines Backwaters first. Only stayed for about 45 minutes until the Sun was good and out, and I managed to catch my first fish of the year (on a Rapala Floating Minnow F7 Silver Vampire.) It had a fat belly just like me!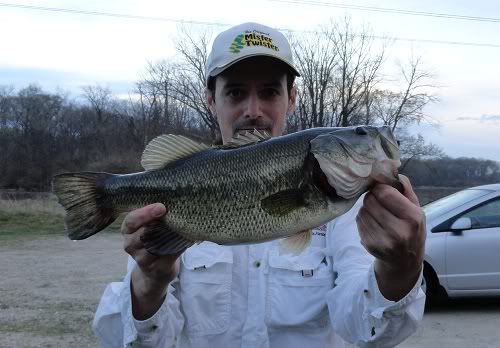 Then I hit the river and got my first Smallmouth of the year on my first cast: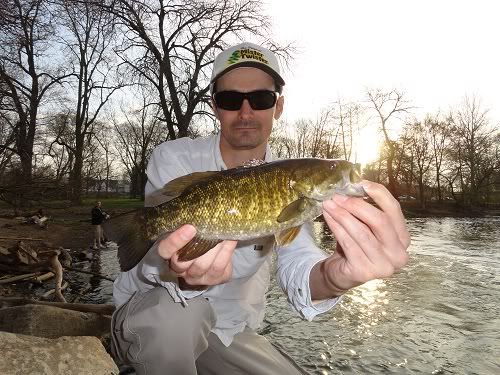 The action was pretty good. Altogether landed 9 bass on the river, 8 Largemouth and 1 Smallie. Also lost 3 Smallies that jumped and shook off. Plus snagged 2 big carp. One got snagged close to the mouth so that might count as a catch. Whatever, they were fun to fight.
Started with the Rapala F7 Silver Vampire and got the 1 Smallie and 3 Largemouth then switched to a 3" curly tail grub on a 1/8oz jig but got no love there so tried a Rebel Wee Crawfish Texas Red and got 1 Largemouth then ended up with a Rapala Husky Jerk HJ10 Gold and got 4 more Largemouth and snagged the carps. For me the minnow baits were working a lot better than the jig/grub again.
So, I got off to a decent start I think. Better than last year for sure. Maybe next I'll try Lake Michigan for some Coho...
Oh yeah, I think I saw Tomo and a 5lb 2oz Smallmouth as the Fish of the Week in the newspaper. Where you at Tomo?
And a shout out to all the guys who have my phone number. Text me and lets fish!