Fished the river (between Momence and Rt. 17 bridge) Friday night through Sunday morning. As others have posted, river is really low (late summer pool) and water clarity is 12-16". Fishing was pretty slow with plenty of time (and casting) between bites. We managed a 12lb cat, 14" walleye, 2 northern pikes, and 2 red horse suckers (the biggest I have seen, pic below). Most fish came on nightcrawlers on the bottom. The two hammer handles hit a crank and jig/craw.
I think this is the first time I have ever gone a weekend without a smallie. I threw lipless cranks, square bills, shad cranks, jig/craw, and jig/gulp minnow and I couldn't scratch a fish (besides the northerns). I mostly worked the shoreline but also tried the tail ends of islands and deeper pools along outside bends.
Anyways, I'm pretty sure we came close to the state record for the red horse (if this is a silver red horse sucker) as the one below weighed 6lb 7oz on a rapala digital scale. Feel free to chime in if you know it's another species. I didn't think to check the state record until after we released it.
The other one went 5lb 2oz but I didn't get a photo.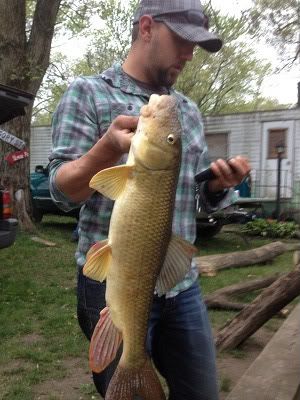 Tight lines!