It's been a long time since I posted anything, but that's what kids and work will do to you. Hardly ever fish that much.
I did want to make this the fall where I land my first King, but after a few outings of nothing, I got permission from the wifey to hit the river while we were visiting her family.
Found a great spot that has produced for me before, but this time, instead of catching a number of 6"-12" smallies, I was lucky enough to find a school of pigs. I never moved out of this spot during this 3 hour session. All fish came from about a 20yd x 20yd spot in deeper water, around 4-5 fow in between a few islands. I was standing downstream from this spot casting directly upstream and moving left or right to cover the area. The wind was pushing hard against the current so on one side you had the current flowing downstream and the wind pushing water the other way into a larger slackwater area, not sure if this makes sense. The money spot was the edge of where the two opposite currents met, I am a river novice, but maybe described as a large eddy? I don't know, but either way, this was my best fishing experience ever. Not just my best Kankakee River experience, the best fishing day in my life. Of the 30ish smallies I caught, I would say half of them were 16" plus fatties and a couple pushing 19" and 3.5-4lbs.... I had no idea this river could produce this kind of action.
Hit the water right after sunrise and started with a buzzbait. First cast hooked into a 12"er. Third cast, caught this 17"er.
Worst part of the day, as I was trying to take this picture, I noticed the rod tip had snapped off! You can see it in the picture. Probably from a previous fracture, but man was a I pissed. This was my favorite rod, 7" ML St. Croix Legend Extreme. So, for the rest of my outing, I was fishing with about 3/4 of my rod, snapped about 4 eyes down. Talk about bad luck, the last time I hit the Kank with my brother in-law, I had my rod in the back of his truck and when we got to the river, noticed it wasn't in the back. He called me an idiot and we went all the way back to go get it. I was 100% sure I put it in the back and sure enough, halfway down Herscher Blacktop, there it was, in the middle of the road. I use a rod cover and the wind must have just blew it out. My setup had been sitting out in the middle of the road for at least 30-40 min and was still intact. At least so I thought. I was amazed that the rod was not broken and since I use a padded reel cover, the reel looked ok. When we finally made it back to the river, I went to make my first cast when I finally realized the bail arm was severely bent and I couldn't move the bail arm of my Daiwa Fuego over the spool. I attempted to try to bend it back and the arm snapped. Still didn't stop me from fishing though, had to manually move the line the line line roller before each retrieve. Either way, two trips to the Kank and two pieces of equipment broken.
Good thing I was catching fish or else the day really would have been ruined.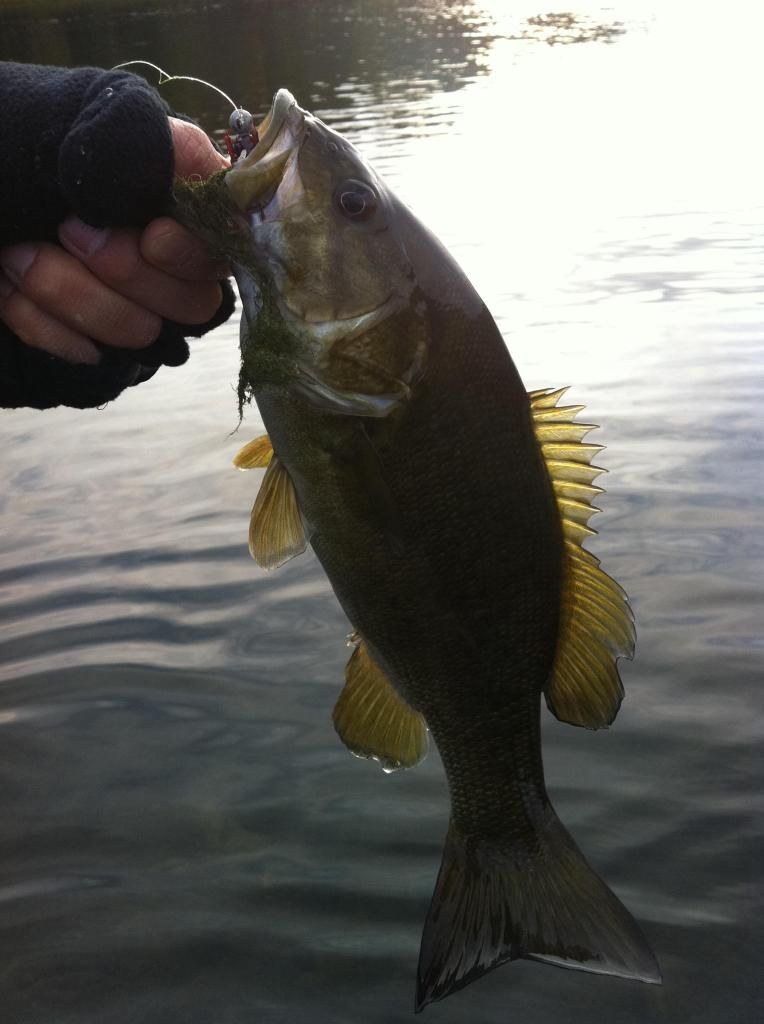 Average Smallie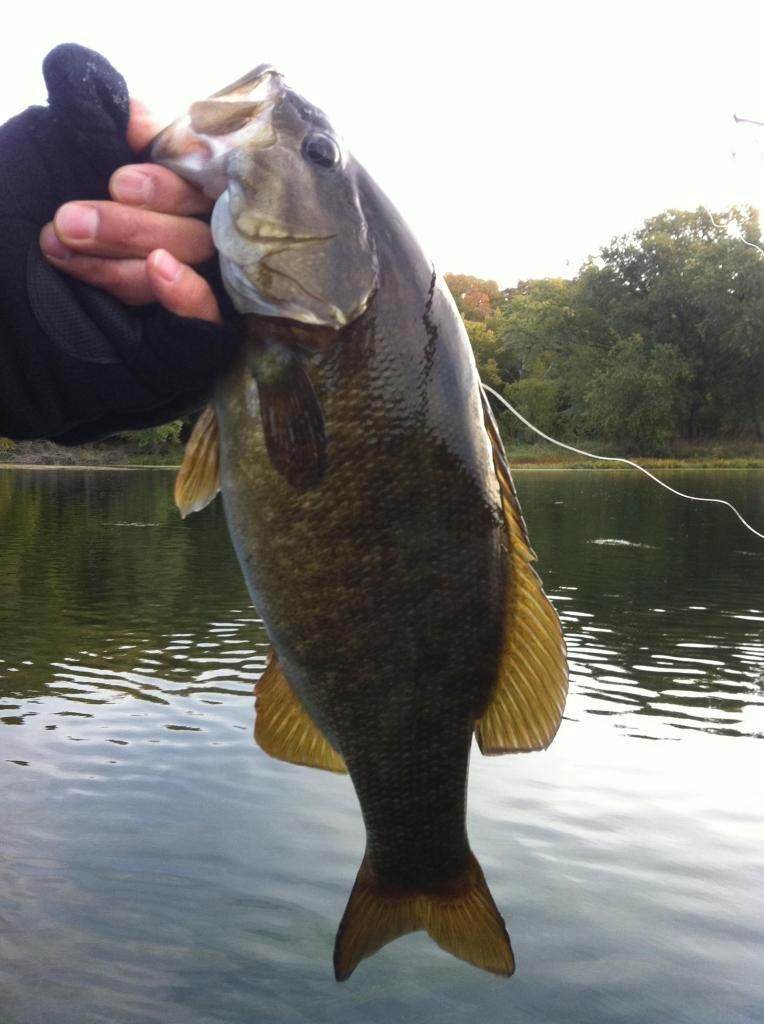 Little bit better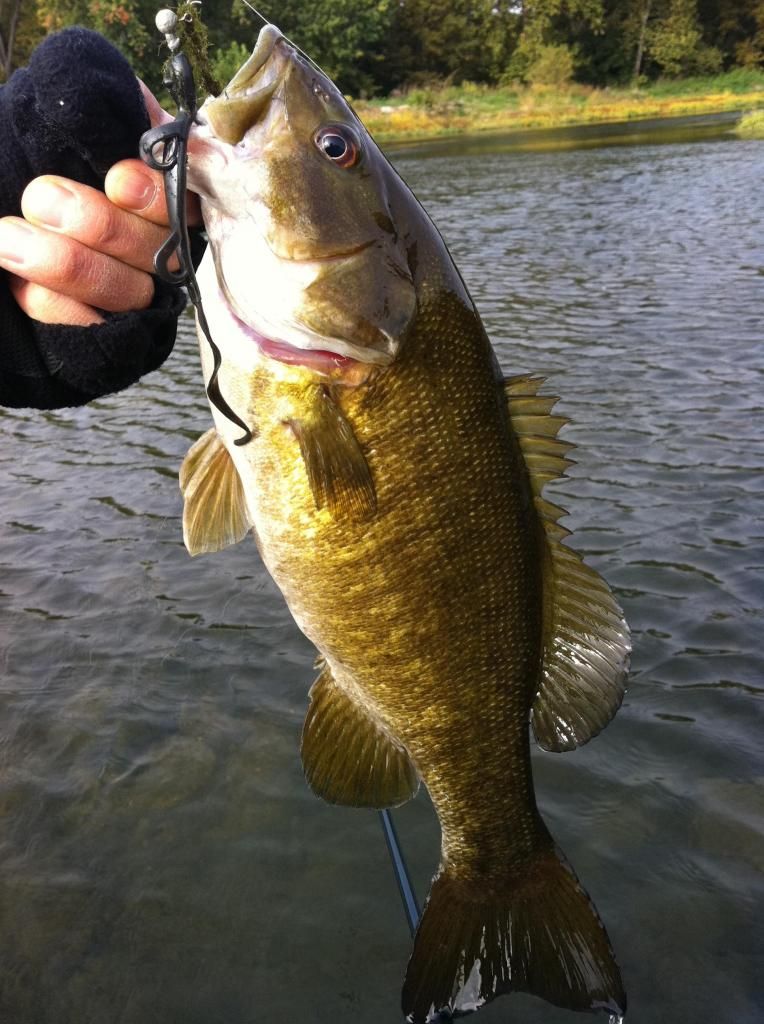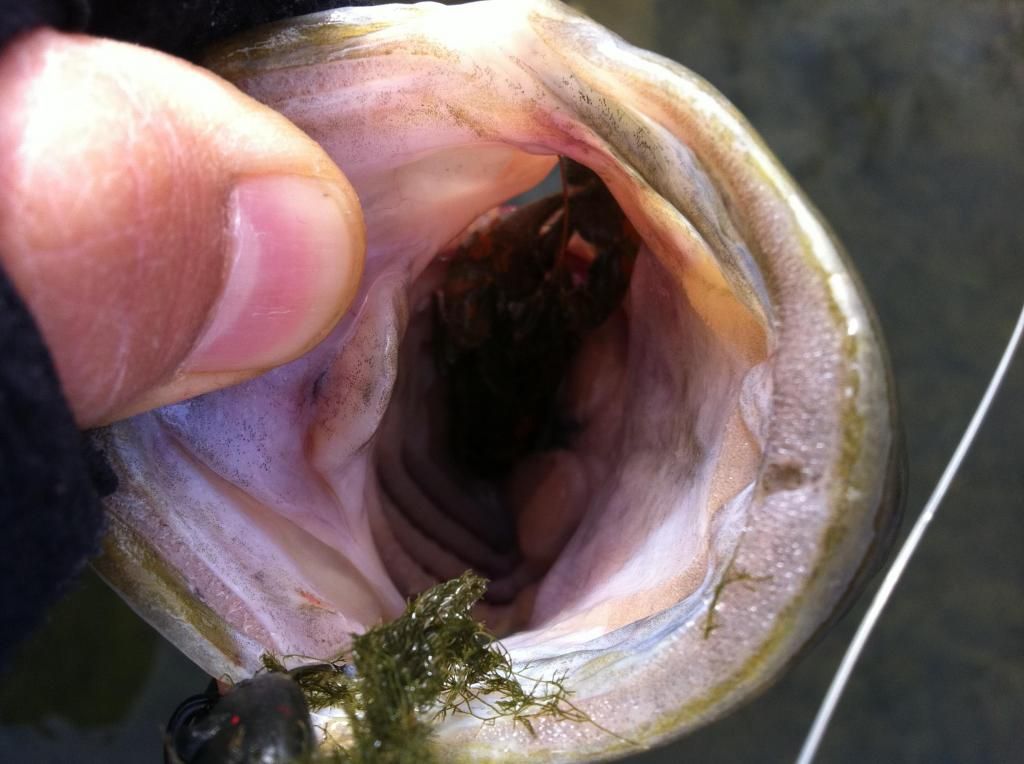 This one gave me a surprise as I went to unhook her, I little claw snapped at me. Had a half alive crawdad halfway down her gullet! These fishies were really feeding up! Still took my lure with a big ol crawdaddy in her mouth...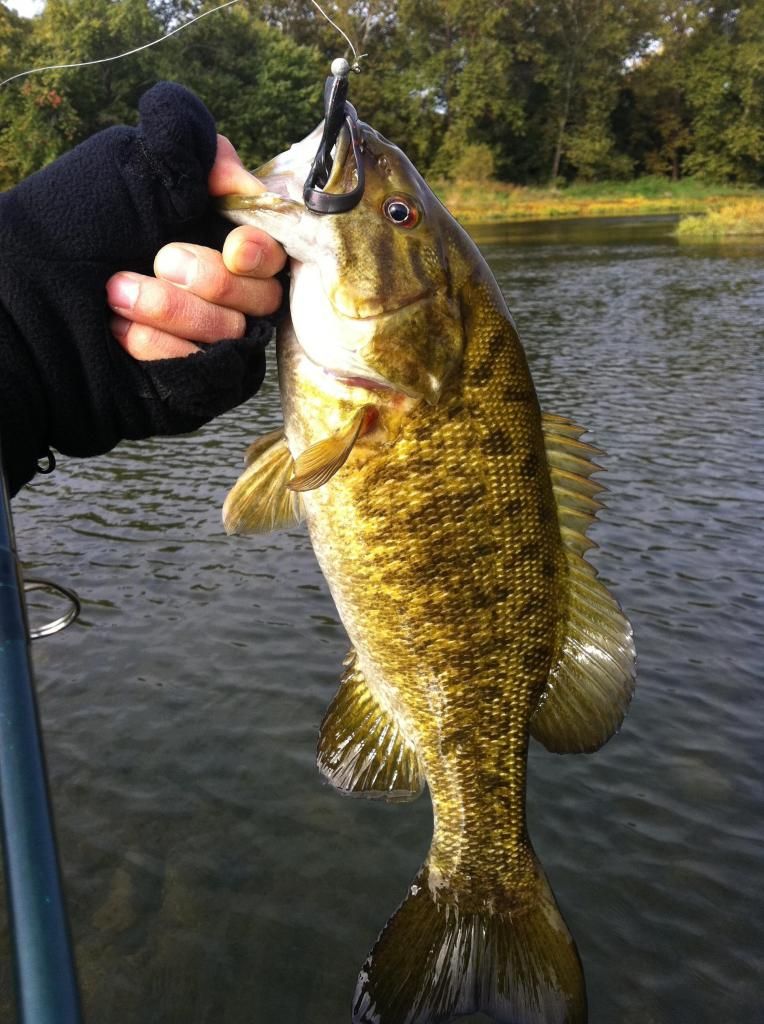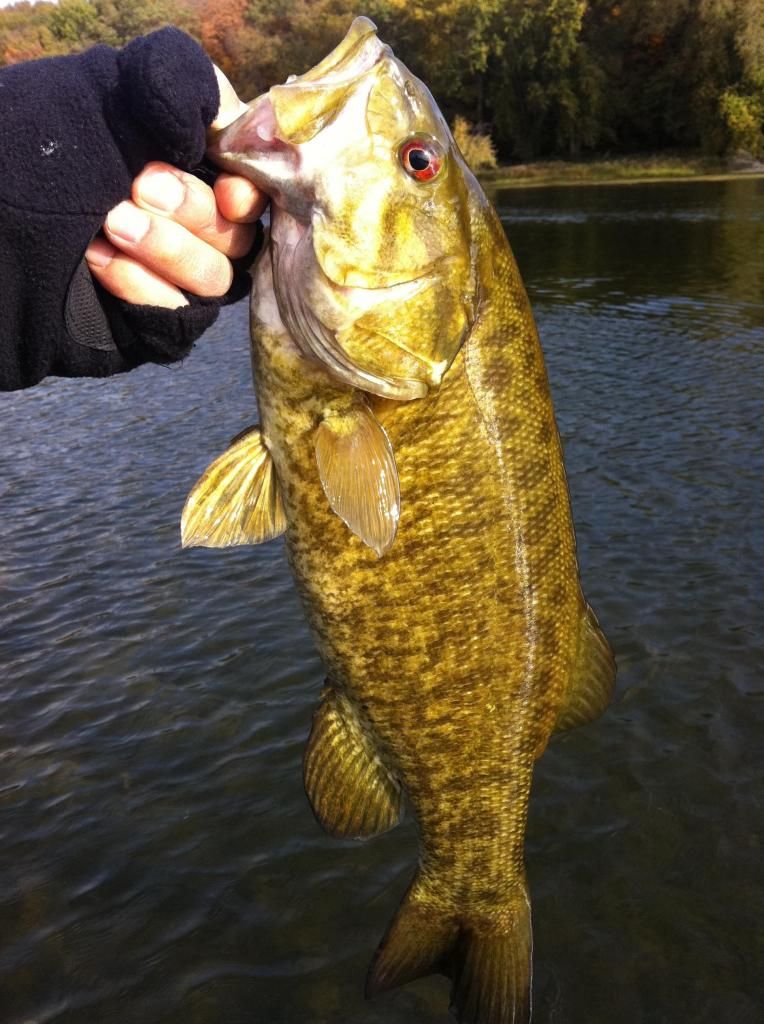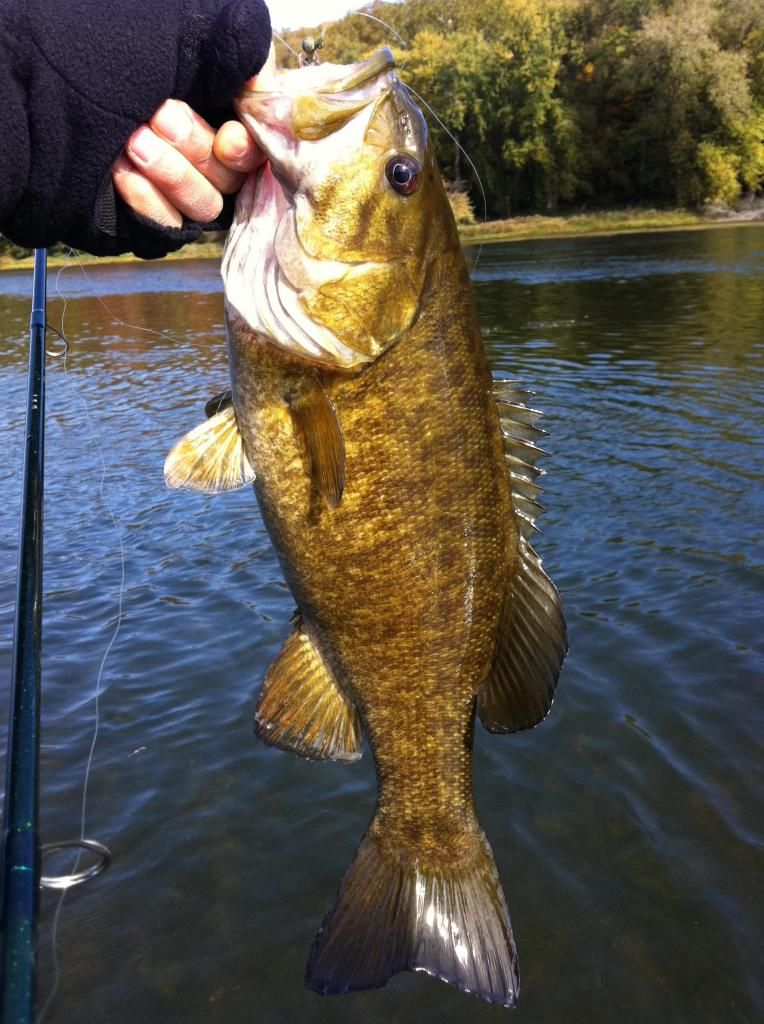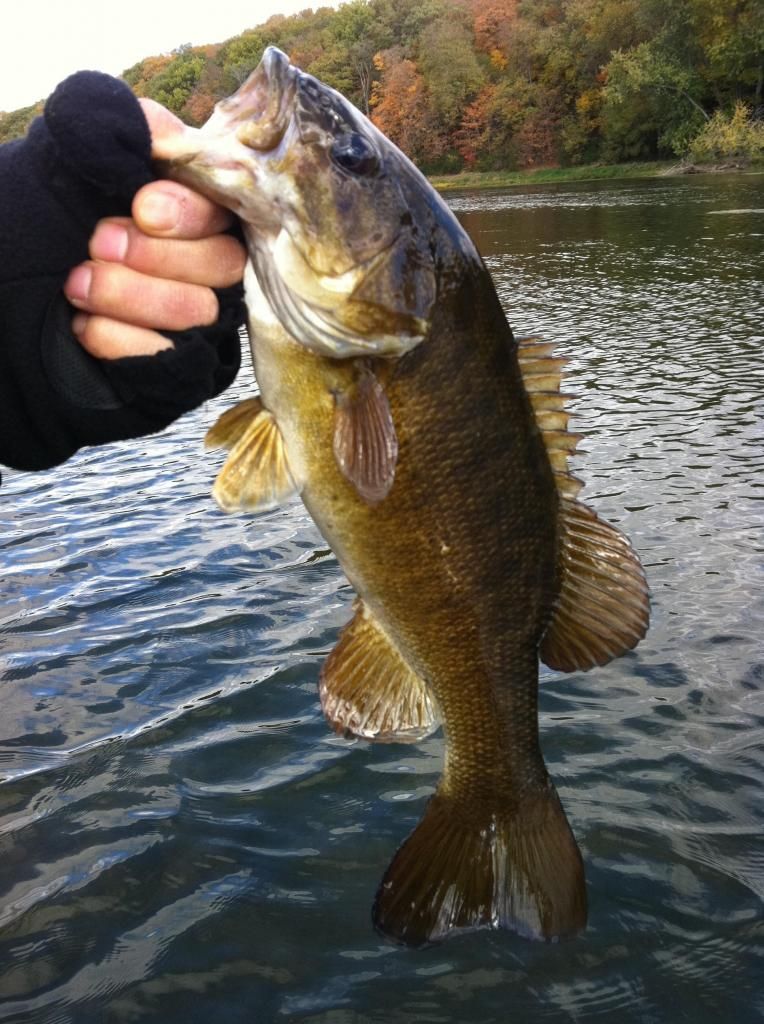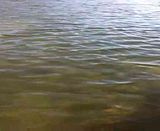 A little video of a landing after a good fight....
These pictures don't really do justice to the size of these smallies. Great day to be on the water. Most fish were taken using a 1/8oz jighead and plastic trailer. Didn't want the twisters or sassy shads that day or green, blue, white, or anything "lighter" in color. Helgies produced best, in a dark purpler color, no idea where I got them. I also used a black lizard and black/blue craw trailers. Casted upstream, let it fall to the bottom and let it sit there for about 10 seconds and just line watched or kept a finger on the line to detect a hit. If nothing then, just popped it up a little bit let it sit. Basically did that the whole way back.
I def. need to hit the river again a few more times before my season comes to an end. I pretty much give up shore fishing for trout/salmon.
Tight lines all!
EDIT: Sorry, but I am pretty sure I am doing it right, just copying and pasting the IMG link from Photobucket, but for some reason, it's not directly posting the pics on the post. Not sure why?