After returning from California early Tuesday in the A.M. wanted to get out to the Kank (Wilmington) one last time before investing my time primarily on the lakefront the next few weeks targeting Chinooks. Got out w/ my brother around 5 pm Wednesday. Water down, considerably lower than when i last went...slightly stained (from the rain i'm assuming.. I've been in Cali for a week so i'm not sure how the weathers been but heard it had rained). We wade out from the north island... not much doing. We go downstream of the tracks, my brother starts picking off bass. Still empty handed... I begin to pick off a few dink bass. Just off of an island something big sticks it's fin out of the water a little ways downstream of us, just out of casting distance. My brother and I are split on whether it was a very large Gar or Pike. We get within casting distance, and unleash a bombardment of casts that land basically right on top of where it was... nothing doing. After 5 minutes of casts, something grabs my mepps and swims towards me, then lets go... I'm definitely thinking Gar at this point... as my previous visit when the water was much clearer i saw several large gar tail in my offerings, and grab only to let go 5 seconds later. ***I told myself i was going to make a gar rope lure, by adding on the frayed twine to the end of my Mepps, but hadn't gotten around to it yet with traveling and such.
My brother and I work our way downstream towards what looks like some milk jugs containing a series of trot lines. In that region, we see something massive surface and tail slap... Once again, we're unsure of what it is, but now it's big... Bombard the area with casts, second cast for me something hits it as soon as the mepps hit the water... i tell my brother, "got em," & after about 10 seconds, my brother says "nah, what I saw was much bigger than what's pulling." After a nice little fight at first i thought i had landed a freshwater drum, but then noticed my first hybrid striped bass. Nice looking fish, quickly released. My brother remarks that he's glad to see something else... seemingly annoyed of all the bass he's catching (I personally, love catching smallies)... Next cast back into the alleys around the jugs where i see something thrashing... something immediately crushes my spinner & beelines downstream.....set the hook "zzzzzzzzz" is all you hear... I immediately tell my brother, "that's not a bass!" Thinking we had finally tied into that elusive Gar, huge Pike or chunky Walleye... I finesse the fight delicately trying to weave around jugs... trying to angle towards shore.. All i kept thinking is let me not lose this fish due to getting caught on someone's trot lines. This fish gave about 5 spirited runs, and gave my walleye rod all it could handle... there were a few times i thought the graphite would just snap... so i tried to keep the rod angle low, and let the drag do the work. Get him to shore... and tell my brother, "oh no... channel catfish," LOL.. I'm used to catching those over in Momence, but hadn't ran into one at Wilmington yet. After a bit of work getting him unhooked in darkness (sun had just set, and yours truly forgot his flashlight). I ask my brother if he feels like some catfish, he says yeah, throw him on the stringer, really a nice sized cat.
We begin our hike upstream back to the island, as by this time it was completely dark w/ no moon to help us out. Get back upstream of the tracks to the smooth calmer water off of north island... as we angle upstream and across back towards the island... we begin casting upstream diagonally with a fast retrieve (this area is only about knee deep, so you have to run the mepps fast to not get hung up)... first cast, something hits, i set the hook it comes loose after 5 seconds (Gar again i think? or something else did a short strike). Next cast, right back to the same spot... something hits it.... fish on... complete darkness.... after a short fight... w/ one fish attached to my waist via stringer.. i angle toward shore as it's too dark to even tell what i landed. A hint of light from the stars let me know I had landed this nice Walleye..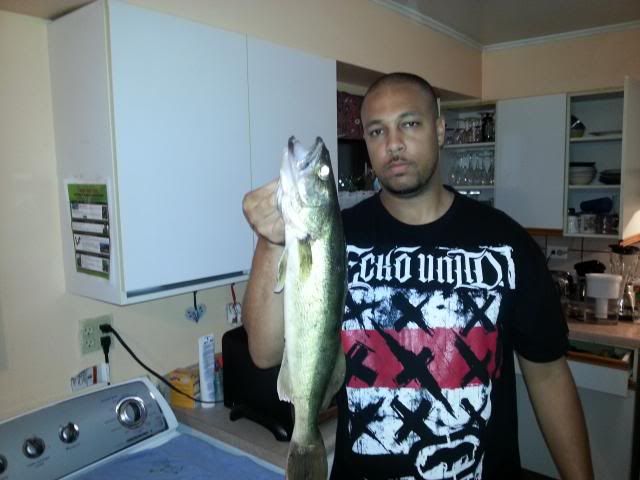 Sorry i don't have pics of all the other fish, my phone was knocked into the pool in cali, so i'm still w/ out a smartphone at the moment..
At any rate, great day out, great weather, nice mixed bag of species... & the two keepers made for an excellent fish fry earlier this evening. & Now, looking forward to the prospects of bagging a King or two at the lakefront starting this weekend