Monday 6/25
It wasn't easy trying to sleep in a little Hyundai Accent loaded down with gear and one other person and I think I got about 1 to 2 hrs of sleep if that. This and the fact that I had very little to eat would come back to haunt me on the portage at Silver Falls later today. I wound up putting the food pack and cooler on the roof to try and give us a little more room but it really didn't help. On top of the cramped quarters it was very humid, we couldn't open the windows since it would let all the bloodsuckers in so I resorted to starting the car every so often and ran the AC which helped for a while. Finally around 4a.m. we just kind of finally gave up on that idea and decided to walk around a little. Unfortunately, the mosquitoes here in the parking lot and near the shore of Seagull lake were unrelenting so we made a hasty retreat back to the car with probably a dozen accompanying us inside. I proceeded to smash the little blood suckers one by one on the driver side window making one bloody mess.
Dad and Alex excited about getting started...
Our towboat arriving to pick us up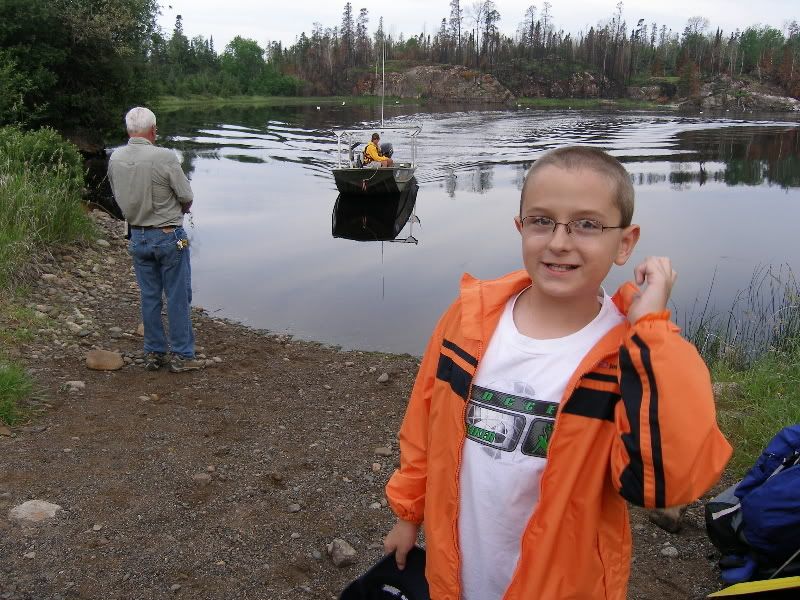 Finally, 7a.m. and the time had finally arrived to meet Debbie and the Staff at Seagull and pay for our canoe and tow. Once again the staff was at their best making short order of loading our gear and transporting us to the launch site. We made the tow with 6 other gentlemen from I believe Missouri who were headed to the falls chain one who was celebrating his 50th b-day. On the tow to Honeymoon Island on Lake Saganaga the fire damage looked devastating but didn't hold a candle to the destruction we saw headed back down the Gunflint trail during daylight hours on our way home. We made it to our drop off point nice and dry for the winds this morning were very light.
After we loaded our canoe up with our gear the moment of truth had arrived. How would my 9year old son handle being in a weighted down canoe in such a large body of water and more importantly would he like it and be able to paddle without triggering his asthma. After 10 minutes out on the water he was performing like a champ and kept saying, "this is fun dad". OH THANKYOU, Lord!!! To top it off we even made it to the Canadian ranger station way ahead of the 6 guys we came out with and almost caught up with a group that had left from Hook Island before us. Not that I was racing but wanted to get through the ranger station first since I knew the portage was going to be hard on me.
It would be a busy morning for Janice the ranger lady. A group of 6 already here then us, 6 others we came out after us with more canoes in the distance heading this way. We met Janice the ranger and listened to the official park guidelines, paid our fees for camping, fishing license and bought a friends of the park water bottle with the total coming to around $75 after deposit. Heading back out the wind was still light and in our favor something I fretted about since I made the reservations. I also noticed what appeared to be some fire damage to the Island NW from the ranger station, something I don't remember being there from my last trip back in 2004.
We made it to the Silver Falls portage fairly quickly without actually going down a dead end bay. LOL There was a small group already here but plenty of room so we put our stuff well off to the side and started our portage. I portaged the alumacraft canoe first which went a little better then I expected and Alex took a few light things like seat cushion and seats. I was pretty proud of myself for not having hardly any loose items and everything in packs this time. Unfortunately, because of the number of heavy items Alex wasn't able to portage any of those and I'm not about to admit here how many trips it took me to get it all across…let's just say I blew away my old record. LOL To get an idea of how long this took me the other group caught up with us and finished their portage about the time I was half way through, along with 1 or maybe 2 other groups. The heat and humidity along with only about 2 hours sleep max in 24 hours and very little nourishment this morning was taking its toll. Made a mental note to myself through all of this to buy a few lighter items(tent is too heavy, maybe go with single lightweight burner, also brought too much food) and most of all downsize on my fishing gear next time something I say but never do, probably had at least 30lbs of this. Since it was just me and my small son the food pack didn't seem so heavy at home this year so I really overdid it with fishing gear.
I don't handle heat and humidity very good and it was heating up pretty good, about midpoint my head felt like it was going to explode. There was a nice breeze out on the lakes but on the portage it was just about non-existent. My exhaustion didn't do a lot to keep my sons spirits up. Bugs on the portage weren't too bad. The Silver Falls portage is hardly long, however, on both ends the initial climb really wears on you and has that very large rock by the falls that can be tricky to negotiate with a heavy canoe on your shoulders.(should of took a picture of that thing) There are numerous smaller boulders
s, tree roots and one large tree across the portage which keep things interesting. The tree really isn't a big problem and can be easily saddled over even with a canoe or heavy pack. By the time I finished this thing I had a name for just about every turn, rock, tree root, hill, dip, etc…
After finally getting everything across the portage and back into the canoe all we could think about was getting to the first available campsite to cool off and rest. My plan had originally been to get to the eastern half of Saganagons to base camp for the week but after the portage I was toasted and we opted to take the same campsite AnglerEd and I had back in 2004, a site which I really like. It has a great sunset views, nice landing, open to the breezes, eating area, deep water for swimming but not the greatest tent pads. As soon as we made landfall the only thing I could think of doing was soaking my feet in the nice cool water. Oh did that feel good!!! Alex wanted to go swimming so I said, talk off your sweatpants and get in. He gave me this look like I was crazy and all I had to do was give him a look that said, look around who's going to see you. It was the first time I think he started to realize just what a special place this was and unlike anyplace he's ever been before. So he stripped down to his briefs and waded in. The cooler lake waters felt magnificent and were just what we needed to feel somewhat rejuvenated. We just sat in the water for a few hours before I could get up the energy to put up the tent and make us some dinner. Being as tired as I was it was Mac & Cheese for Alex and a cup of Ramen soup for me. Alex turned in very early while I got the gear inside the tent and organized.
Our home for the week...
Today ended without either of us wetting a line, and I hit the sack around 10pm after a beautiful sunset and clear skies.