Discussion Starter
·
#1
·
I had always heard that you can have decent luck fishing in the rain, don't know why I never really considered it... I mean what would the fish, not come out to play & be afraid of getting wet? LOL.. So with an overcast day & time on my hands i decide to try my hand at Momence.. It was sprinkling intermittently first.. as i arrived... I begin casting with Mepps spinners.. having sporadic luck... on the trout colored # 3 lure pictured here... I land a few nice smallmouth on them.. (between 12-16in.. & as dark approaches switch over to the Mepps #4 spinner that i landed the pair of Pike on last weekend. I wasn't having any luck the previous weekend with the black & yellow during daylight hours, but as soon as darkness hit that seems to be the bait of choice.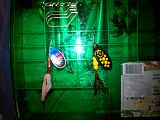 By this time it's a downpour... I'm soaked... & then it happened...
I switch over to the Mepps #4, the bite turns on & i land 23 additional smallmouth in about 25 minutes till dark. I literally was getting them on every cast, for about 15 consecutive casts... @ the height of the downpour. All were between 16-19 inches.. I wish i could've gotten more photos, but i was trying to be cognizant of not getting my digital camera too wet & ruining it.. I did manage to snap a few pics at times when the rain slowed just enough. Some of the bigger ones i really wish i could've got photos of... All fish were released. First outing i've had where they literally were hitting on every cast.. i guess it's just a matter of being at the right time in the right place.. I was pleased to see that many smallies in the same place being that aggressive that were decent sized. I know in the past it's been routine for folks to have 100 catch days etc, but with the K3 being down the last several yrs..was nice to experience a small little glimpse of what the river used to be.