Discussion Starter
·
#1
·
This was a memorable one...
I took a friend up to the UP this Memorial Day weekend. I promised him a good time and excellent smallie fishing. He didn't think he would be helping me drag a dead body off dark deserted highway at 12am hours after departure. But that happened.
We left my office around 6pm on Friday night and headed north. Car was packed to the max with an outboard motor, supplies, a case of Zombie Dust, a cooler of other treats, luggage, etc etc. Made a brief stop at Mars Cheese Castle for a weekend supply of brats. The car ride was uneventful until entering Michigan.
In the matter of a split second of reaction time, a dumb deer darted out in front of me on HWY 35 just past Marinette/Menominee while I was set at 65mph on cruise control and froze in the lane. With next to no time to react (which was probably a good thing), I turned my wheel slightly to deflect this creature off the side of the car. I drilled a deer. My friend was horrified. I pulled over and hit the flashers. Made a quick inspection of the vehicle and laughed. Damage was minimal in my opinion with a blown out lamp, slightly damaged fender, and a bent door and a side view mirror blown off. I turned around and saw a lifeless deer in the middle of the road. I had my friend help me drag this doe off to the side.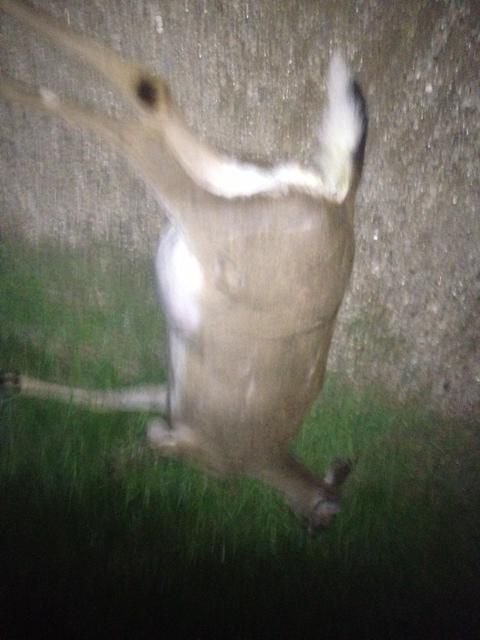 The aftermath -
Too bad. It looked like it was pretty pregnant too. Fortunately for us the car was still drive-able and we were fine. So onward we went.
Our destination greeted us and I figured it would be best to feast up on brats and a couple cold ones at 4am.
And after another few beers, we noticed the sun poking up over the horizon. I mean, we were up that late, so might as well take a walk to Lake Superior and watch a gorgeous sun rise. Oh, and it was cold out, so we made a beach bonfire and cracked a couple more cold ones.
After a brief rest, my buddy and I got the portabote ready and slapped on the "new" 3 hp 1959 Envinrude and motored about 2 miles out on my favorite inland lake for some pre-spawn smallie action at a brisk 4.7 mph.
Water temp was 51-52 degrees, and the bass were in their usual pre-spawn spots. We hammered them pretty good while we were out there. Most fish were 14-17", standard Yooper bass for this lake, and were a ton of fun on ML tackle. We caught our fish fishing off shore rocks in 7-12 fow on texas rigged craws and rapala xraps. The action was consistent until the sun went down on both days. I caught a few females that may have been close to 4lbs, and my buddy won the big fish award by landing a dandy of a pike on a 2.75" yum craw. He was fortunate that the fish was hooked on the side of the mouth and the line was away from the teeth. In summary, we caught 100 100 100 smallies. And one big pike.
I won't bore you to death with a million smallie pics, but we caught a ton, and it was a blast. The ride home was uneventful, which was good, and my friend thinks I'm an expert smallie fisherman now and a great deer killer. All in all, a great trip and one to remember.