Discussion Starter
·
#1
·
Got back Friday from my first outing, and vacation, for the year.
My son, brother and I went down to Lake Of Egypt for four days.
Towed my new-old boat down for the trip, and kept up my vacation tradition of bringing record-horrible weather to the region for the week prior to our arrival.
Seriously, it seems like I can conjure up natural disaster to any area, simply by planning a vacation and making reservations. After my deposit has been processed, will begin floods of biblical proportion.
Pswitzer was going down to LOE the same week and we exchanged cell-phone numbers. I tried calling him once to see if he needed some respite from the primitive camping he had planned, and come in from the cold wind for a cup of hot coffee at our rented park-model.
Have not heard from him since pre-trip.
Here is the campground he was going to stay at:
And the entrance road looked a bit, um, "bumpy".
Don't know if he made it down or not.
We arrived late afternoon Monday, unpacked, and launched the boat to spend the last couple hours of daylight fishing. Not a bite. Didn't see anyone else getting anything either.
Tuesday was WAY to windy to be out on that lake in my little boat with only a trolling motor. So we went to Ferne Clyffe State Park, where we each got a mediocre (15 inch) bass.
And ran into this guy out for a walk: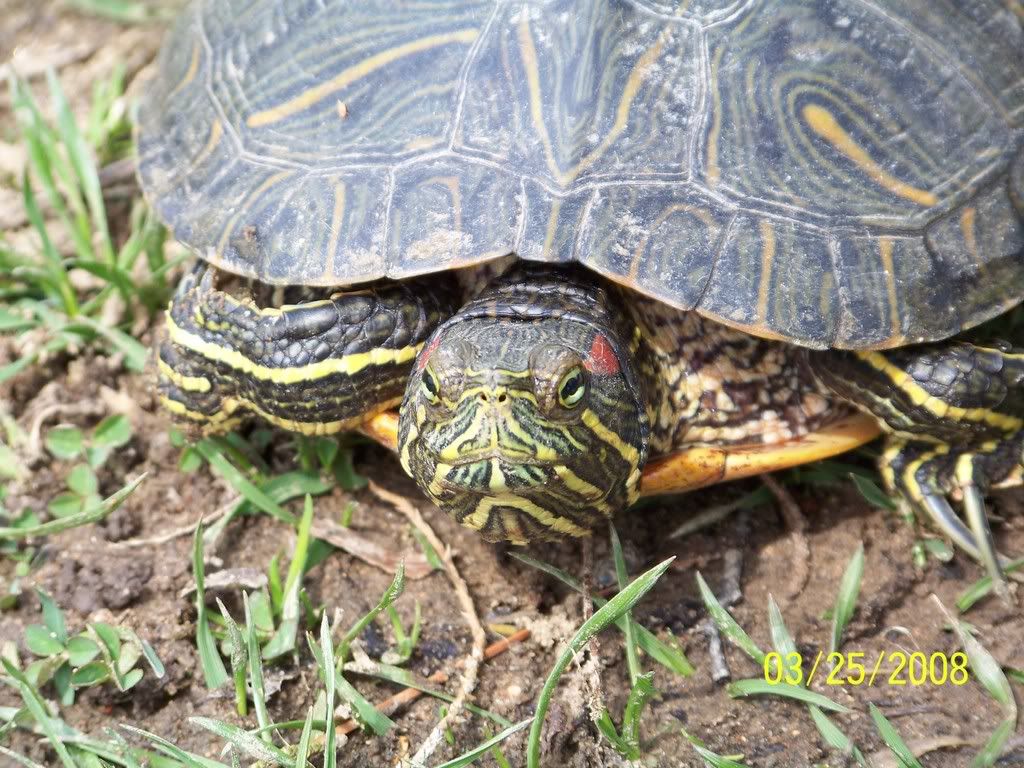 Wednesday actually turned out to be a pretty nice day, and we spent all morning on the boat, came back in for lunch, and spent all afternoon on the boat. Fished the quiet coves, the northern banks, the long points, shallow, deep, jigs, beetle-spins,spinner baits, a few cranks big and small, and only came up with one small bass that came unbuttoned before coming to hand. Oh well, it was a beautiful day (we actually got a little sunburned) and beat the heck out of being at work.
I talked to one tourney-type guy, and he said that he had been out all day, and caught several bass, but could not identify a pattern. Got one here and there with no rhyme or reason.
After we got back in for the evening, I went down to the marina with my ultra-lite to see if I could at least get a couple of 'gills.
Second cast got me the only crappie of the trip. A nice 14 incher: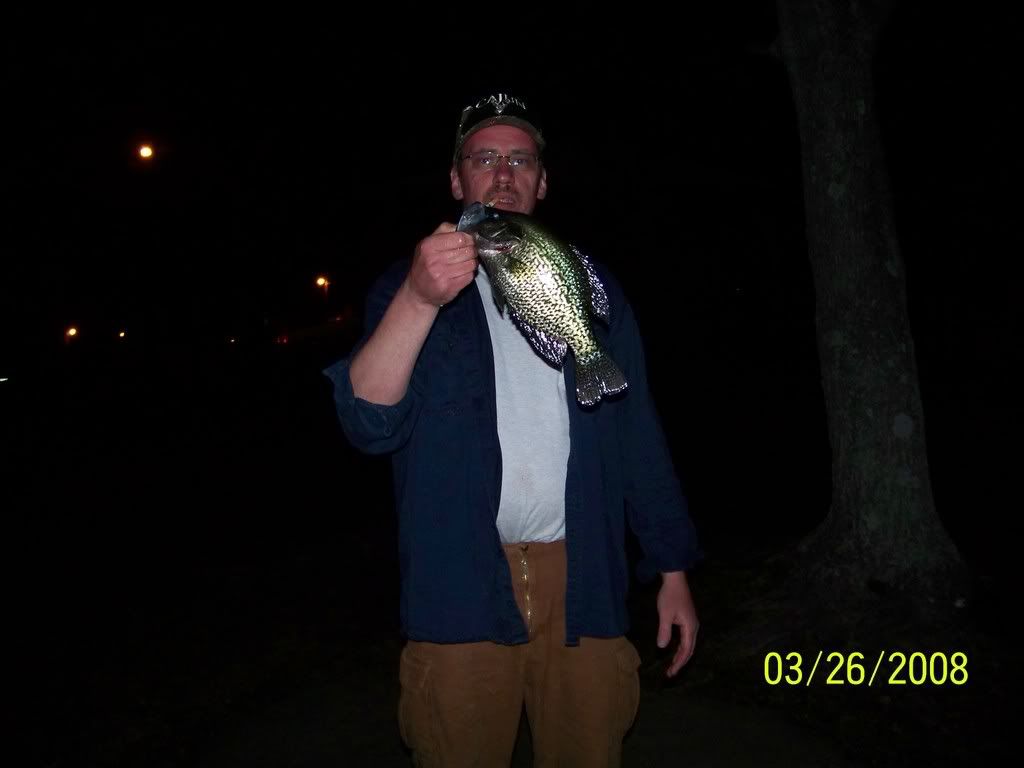 I thought "Great! Here's the crapsters! Right here at the boat dock!"
Then proceeded to catch five nice bass between 15 and 18 inches.
No more crappie.
All day in the boat, which I pulled behind us for 350 miles, and all my fish come within 40 minutes of bank fishing right at the resort. Go figure.
Thursday was REALLY windy again, and was forecasted to be windy all day. So after kickin' around our options, we decided to load the boat back on the trailer, ( I don't want to talk about it) so that we weren't doing that on the morning of check-out (Friday). Then go check-out Giant City State Park. On the way to Giant City, we took a couple of detours on the back-country-roads. On one road, we pulled over to fish a pond that was about ten acres. Unbelievable action. Every other cast got a fair sized bass. Windy cold-front moving through, and these bass were smackin hard and agressive. Taking my 1/8 oz. beetlespin as soon as the retrieve started, and taking it almost into their gullet. We played with these little guys for about a half an hour, and must have caught over twenty five: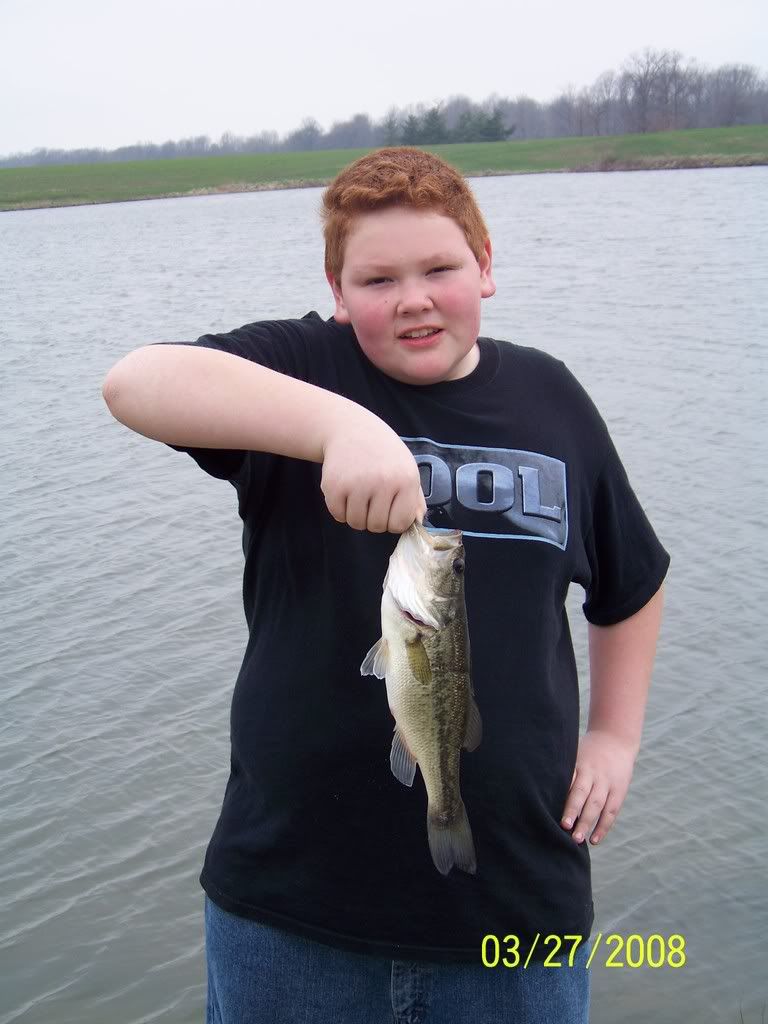 There's gotta be a couple of HOGS in there.
Giant City State Park is pretty cool, if you're ever down there, I reccomend it for a day trip. I understand that there are a lot of trails to check-out, with some really great scenery. I'll show you some of the cooler rock formations that are easily accessible.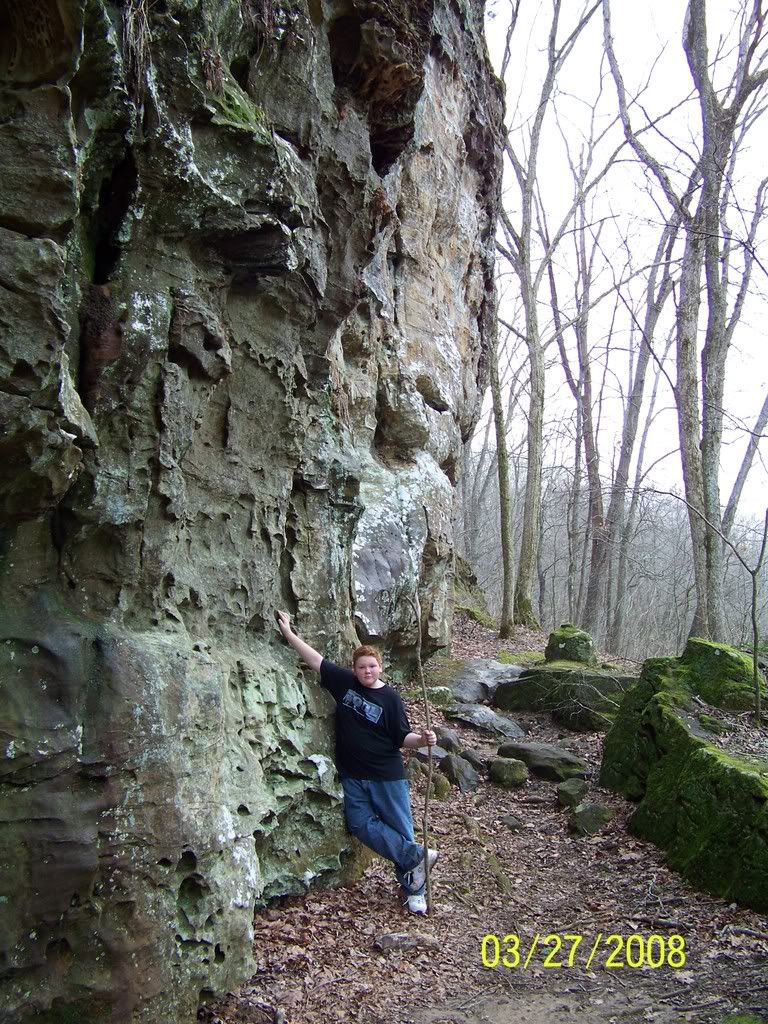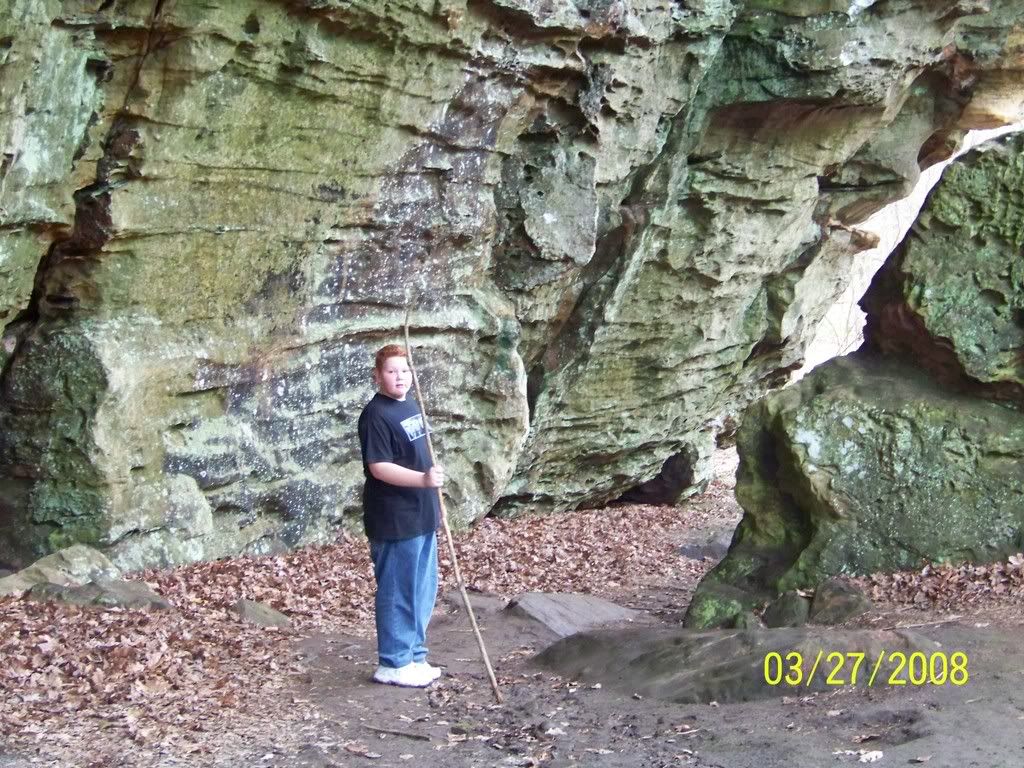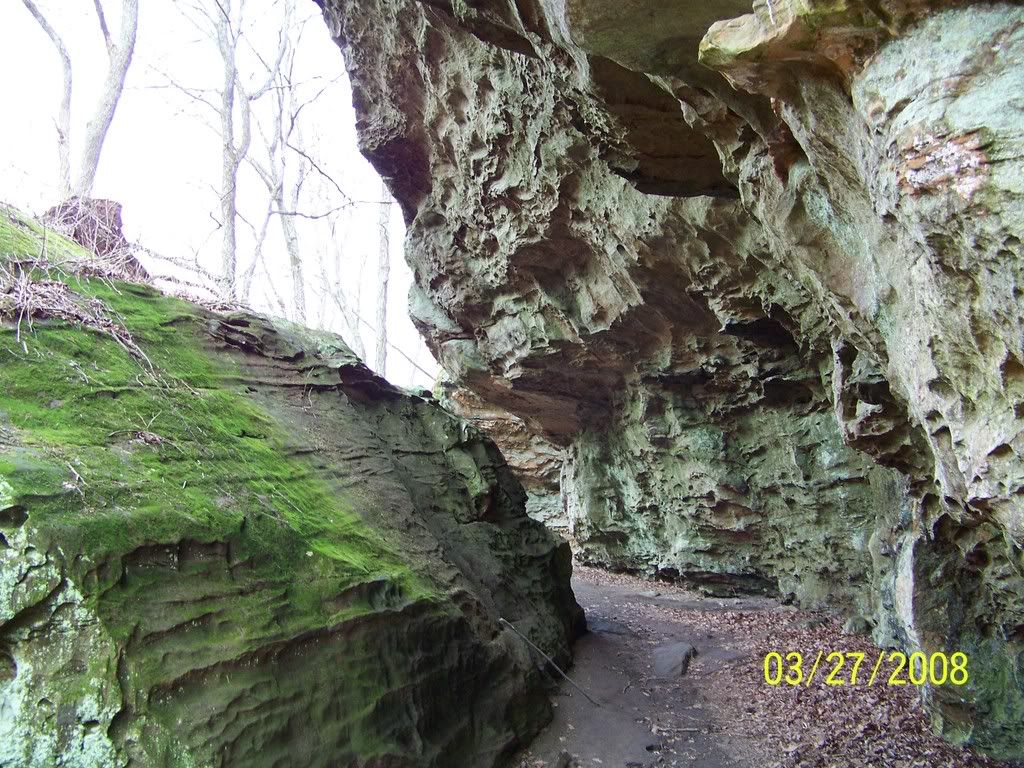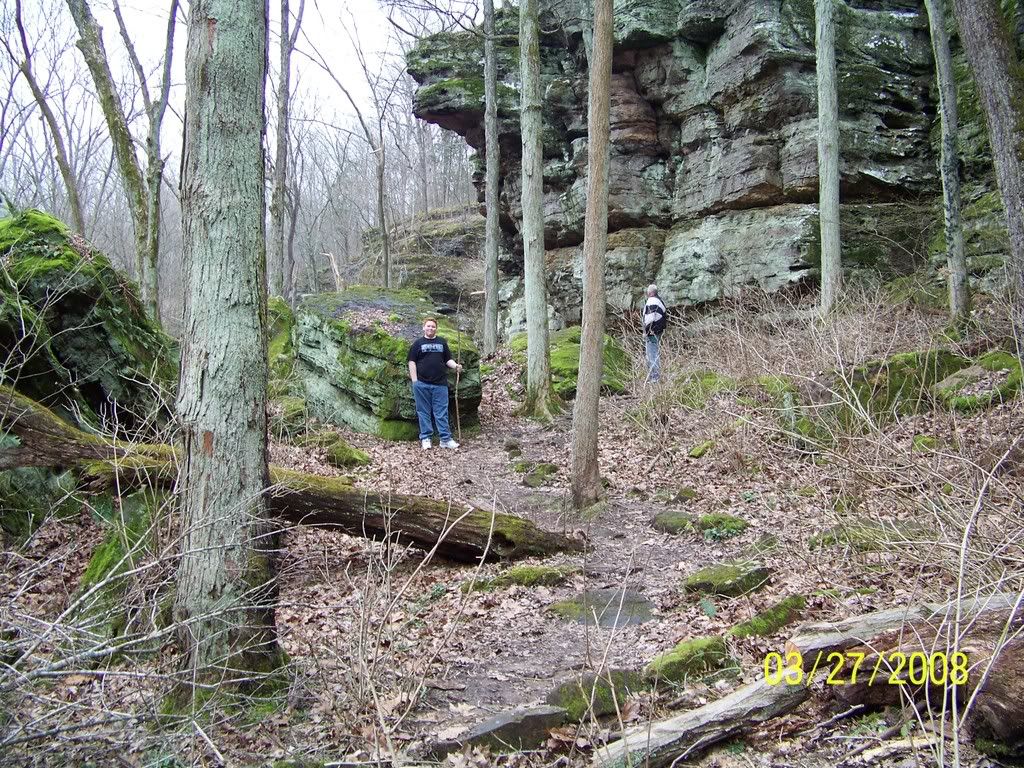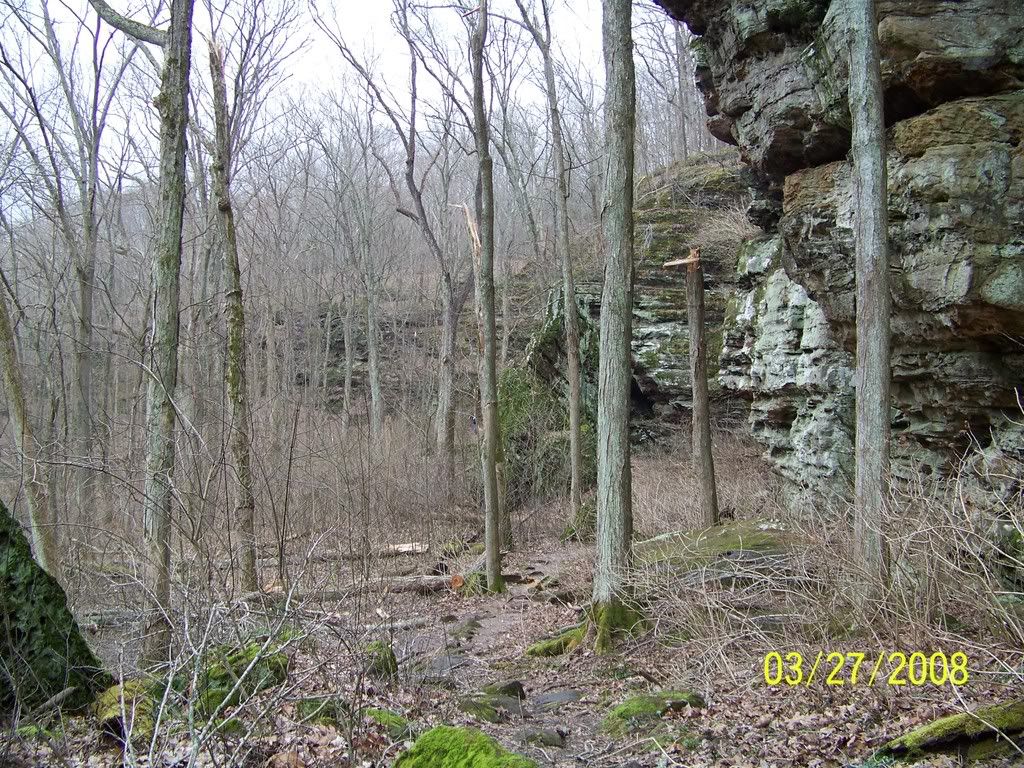 Nice view of Shawnee Forest from the tower there: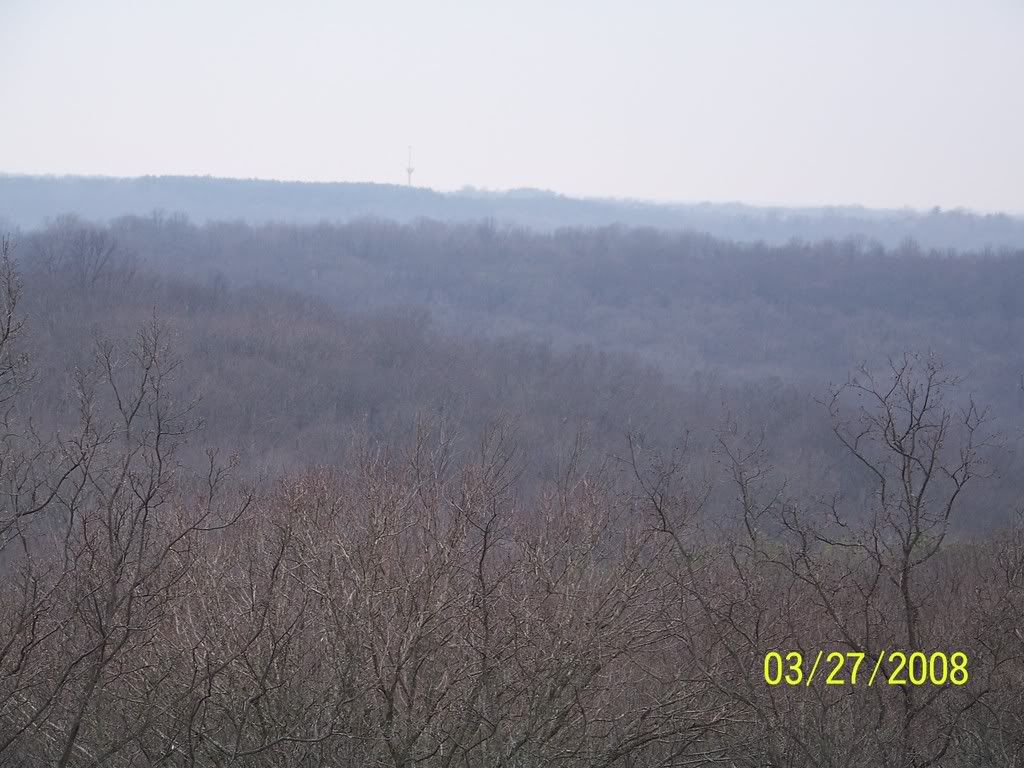 And a typically impressive old stone lodge: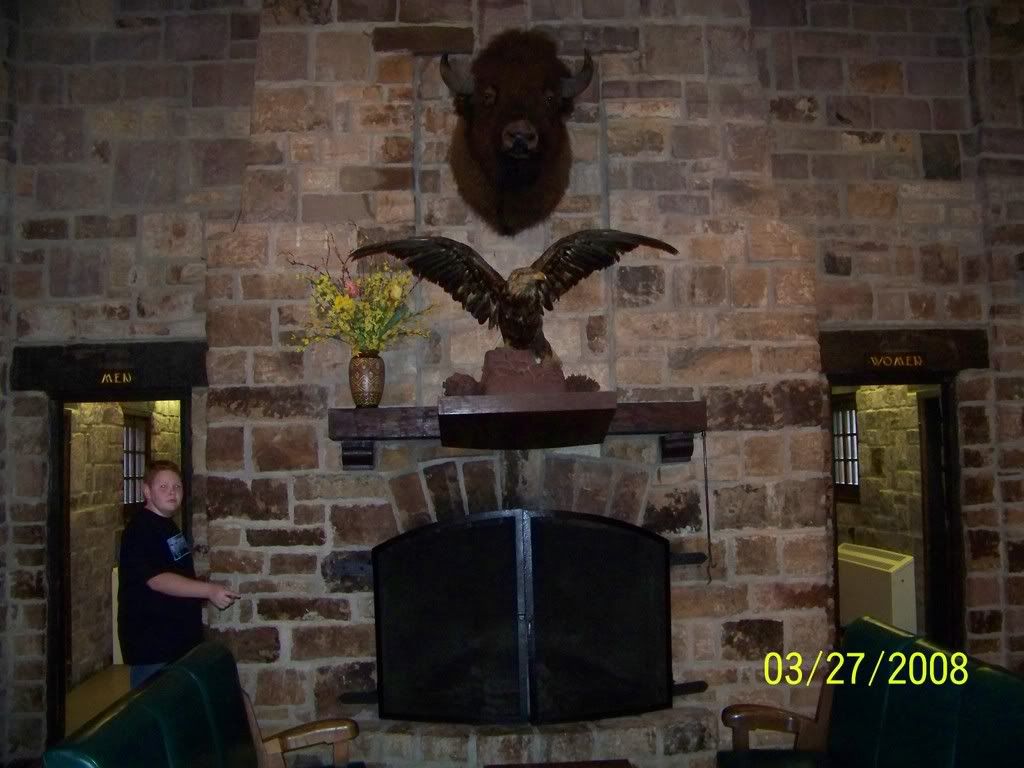 And if your into finding lots of Obsidian, my boy will tell you that southern Illinois is the place to be: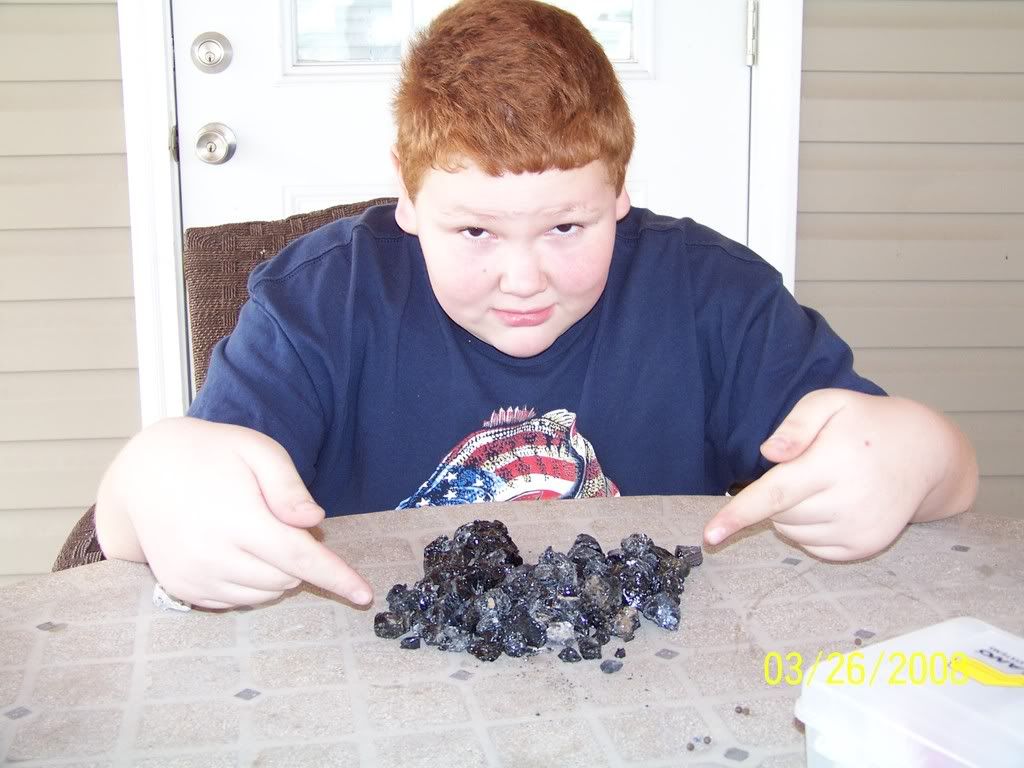 Got home Friday evening, and by mid-day saturday I was itching to have at the local fishing, so, ultralight in hand, I went to one of my spots on the DuPage River.
After casting my old reliable 1/8 oz. black beetle-spin for a while, with no action, I decided to slow down my presentation a bit by adding a bobber about two feet up the line, and was promptly rewarded with my first DuPage River smallie for the year. A nice chunk taken from a slack-water area below a run:
And then got a little greenie out of the I&M Canal:
Then another little better greenie out of some blow-downs on the river, (no pic) and a little crappie from the river:
Not a bad start for the year. Got the skunk off at least.
First smallie felt
good
.