Discussion Starter
•
#1
•
DEPOSIT TAKEN- ON HOLD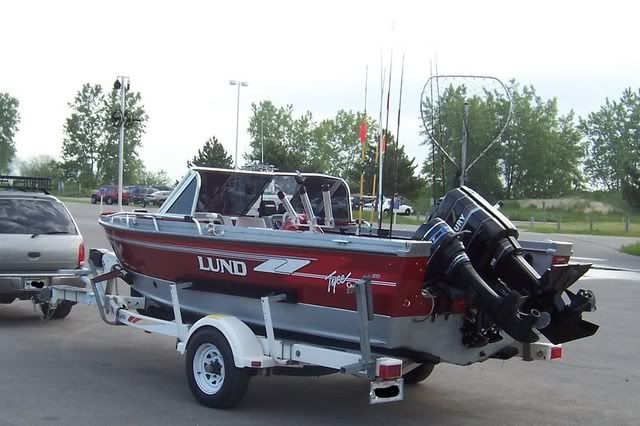 1991 Lund 'TYEE; 1850 Gran Sport, rated -7 passenger, everything works!
DEEP 'V' will handle 6 ' with No Problems
115hp. Merc. 2 extra props,
20hp. Merc. Kicker w/steel tank & electric start, extra prop.
2 Bass pro batt. 1 year old,
ShoreLander' trailer w/ electric winch,
Front step up onto boat,
5 removable seats,
Fold away trailer tongue,
10 life vests,
Garmin GPS,
Garmin Locator,
Marine Radio,
AM/Fm Radio w/I pod hook up,
On board 3 batt. Charger Bass Pro,
2 boat covers, 1 travel, 1 Top Gun all season cover, Top Gun cover cost was $750.00 will last forever,
Full foul weather enclosure, never used,
Full night time running lights,
2 compact stow away oars,
Brand New under water TV camera,
Tube for 2 people & tow rope,
8 rods & reels for trolling, Cabelas counter, Daiwa & Penn's, + 2 wire rods & reels,
Big John duoble reel mast for trolling, new line 2 years ago,
'If you never tried a mast set up you'll never use yellow birds again'
2 big boards for trolling,
6 Yellow birds,
Aprox; 200+ lures, spoons,flies, J-Plugs, etc.
Many new never used, glow this & glow that,
You will never have to buy another lure, if you do your a sick-puppy!
Aprox; 50 dodgers, of every size,
2 lure box's for easy carry onto boat,
2 electric downrigger + 2 spares, Older Riviera's but do the job,
4 pancake weights,
2 Anchors,
Aluminum trolling bar for downriggers,
You got over $1,800.00++ of gear.
One will never have to spend a dime for anything to have fun;
PM - Leave me a name & phone number.
I will NOT seperate the gear from the boat. If your NOT getting into Lake Michigan/Lake Erie fishing this boat is not for you.
Why am I selling my baby? Going to a bigger boat with a friend at North Point Marina.
$6,800.00 on Craig's list. For $ 7,500.00